County Partner Wins Eunice Sullivan Economic Development Professional of the Year Award
July 15, 2015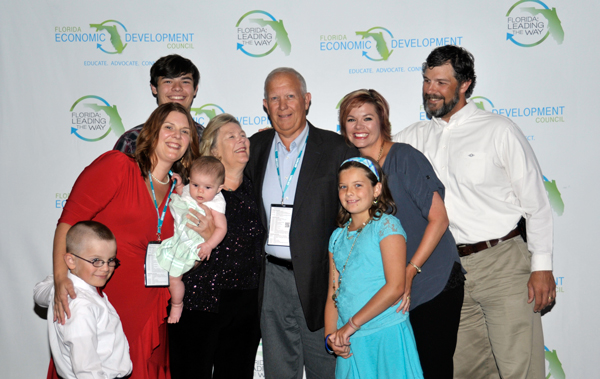 Allen Cherry (center above) received the The Eunice Sullivan Economic Development Professional of the Year for 2015
The Florida Economic Development Council, host to the 2015 Florida Economic Development Conference presented by Florida Power & Light Company and held July 13-15 at the Walt Disney World Swan hotel, has recognized the achievements of Florida's best economic developers .
The Eunice Sullivan Economic Development Professional of the Year award is given annually in recognition of the achievements of an outstanding economic developer within the state of Florida. The award was first given in 1985 and was renamed in 1991 to honor Eunice Sullivan for her dedication and commitment to the economic development profession and the Florida Economic Development Council.
Allen Cherry was awarded the honor this year. Mr. Cherry (center above) has been involved in economic development in varying capacities for the past 43 years. Currently, he is County Coordinator for Madison County, a position he had held for the past nine years. He is the past chair of the North Florida Economic Development Partnership (NFEDP) and has been Executive Director of the Madison County Development Council for eight years. Mr. Cherry also served two terms as a County Commissioner from 1984-1990. His commitment to regionalism inspired him to host a (first ever) site consultant event in 2014 to increase exposure to the North Central Florida region. The event was so well received and effective, it was repeated in 2015.